« Cannabis Carolling! | Main | Ian Mulgrew: Judges mull legality of hash brownies for medical users »
By admin | December 14, 2013
Medical marijuana in tea or baking faces another B.C. court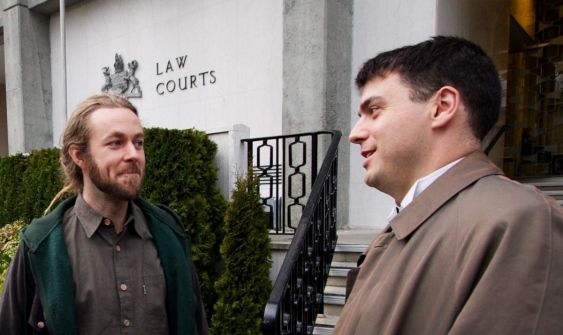 Owen Smith, left, with his lawyer Kirk Tousaw, outside Victoria Law Courts in
January 2012. Photograph by: DARREN STONE, Times Colonist
The Crown is appealing a B.C. Supreme Court decision that allows patients authorized to use medical marijuana to drink it in tea or bake it in their brownies and cookies.
On Friday, Owen Smith, the former head baker for the Cannabis Buyers Club of Canada, will be before the B.C. Court of Appeal in Vancouver, trying to preserve his April 2012 constitutional victory against Health Canada's medical marijuana access regulations.
At a press conference on Tuesday, Smith's lawyer, Kirk Tousaw, said he was excited to again demonstrate that the rights of medical marijuana patients to medicate themselves with cannabis and cannabis derivatives should be protected by the Charter of Rights and Freedoms.
"We're simply asking for the right to be able to ingest a safe and natural health product that's been used medicinally for thousands of years," Tousaw said. "I think there's a long history of protecting access to health care in this country, and I hope we continue to stand on that on Friday."
Smith had been charged in December 2009 with possession for the purpose of trafficking and unlawful possession of marijuana after police found more than 200 pot cookies and cannabis-infused olive oil and grapeseed oil in an apartment building on View Street.
At Smith's trial, Tousaw argued that the laws were unconstitutional and arbitrary, and did not further the government's interest in protecting public health and safety. Instead, they forced the critically and chronically ill to smoke medical marijuana, which was potentially harmful.
In the end, Justice Robert Johnston ruled that it was unconstitutional to restrict medical-marijuana patients to using dried pot. He gave Health Canada a year to respond to his ruling.
In May, more than a year later, the Crown returned to court and asked for more time to amend the regulations. Johnston dismissed the application, saying there was little pretence the Crown's application was anything but an attempt to preserve the status quo until the appeal court heard the case.
In the meantime, Smith was acquitted of the outstanding drug offences.
Smith's first hurdle on Friday will be to convince the appeal court he has the right to challenge the medical marijuana access regulations, even though he did not hold a licence to use marijuana for medicinal purposes or to produce it. Earlier this week, the appeal court sent out a memorandum saying it wanted to hear submissions on the issue of standing.
"We say Mr. Smith has direct standing as someone whose liberty could be taken away for engaging in this activity. He also has representative standing, to stand in the shoes of patients," Tousaw said.
Since Johnston's April 2012 decision, patients in B.C. have been able to make their own oils, butters, baked goods and lotions. Since June, designated producers have also been able to supply patients with products made from cannabis extracts.
"The fact of the matter is the sky hasn't fallen," Tousaw said. "We've seen patients benefit in B.C. and benefit in ways they're deprived of in other provinces."
Topics: Articles | Comments Off
Comments are closed.