« Lunar Intentions (bakery fundraiser) | Main | Ottawa appeals ruling that could lead to legalization of marijuana in Ontario »
By admin | May 10, 2011
2011/05/07 | Ashleigh Smollet, CityNews.ca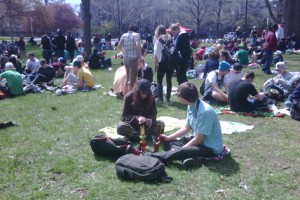 Marijuana March, May 7, 2011. CITYNEWS.
Queen's Park is the place to be for marijuana enthusiasts Saturday, as the annual Freedom Festival and Marijuana March brought out an estimated 15,000 people.
Now in its 13th year, the march is designed to protest for the legalization of marijuana. There are similar events held across the world, but the Toronto demonstration is considered one of the biggest.
The event is pushing for easier access to medicinal marijuana for prescribed users and more liberal laws.
Saturday's march began at the north lawn of Queen's park before heading north on Queen's park Crescent East. It then headed east on Bloor Street West, south on Yonge Street and West on Wellesley Street before ending up back at Queen's Park.
Marches are also being held in San Francisco, Dunedin New Zealand, New York and Los Angeles.
Topics: Articles | Comments Off
Comments are closed.