« The Brave Cop | Main | More From The Vancouver Marijuana March »
By admin | May 28, 2009
Pot protesters gather and march on Liberal convention.

By Graeme Wood, Vancouver SunMay 2, 2009 2:32 PM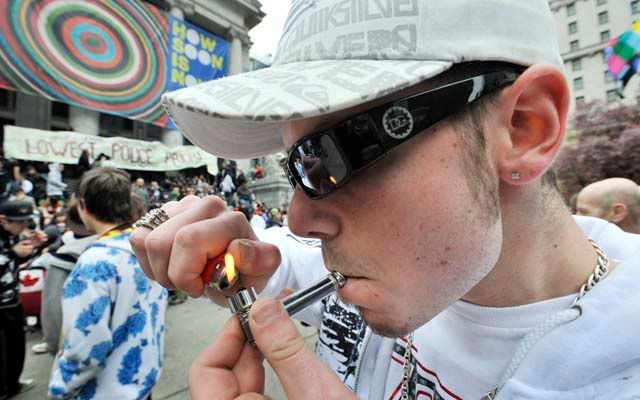 Some of the marijuana activists who gathered for the "420″ smoke in at the Vancouver Art
Gallery are expected to join a protest at teh federal Liberal Party convention in Vancouver this
afternoon.
Photograph by: Ian Smith, Vancouver Sun
Pro-marijuana activists gathered this afternoon in downtown Vancouver to enjoy some ganja and protest Canada's drug laws, which prohibit smoking the green stuff.
The group hopes to draw the attention of new Liberal party leader Michael Ignatieff when it marches to the Vancouver Trade and Convention Centre at 2 p.m. where the Liberal Party of Canada is meeting.

"I hope Michael Ignatieff pays attention to the polls," said event organizer Jacob Hunter, a pro-cannabis activist.
Hunter was referring to a recent Angus Reid poll that said 65 per cent of British Columbians support legalizing the Maui wowie to curb violence related to the drug trade.
Hunter said he expected about 2,000 people at the Vancouver Art Gallery and "a subdued amount of fun" as police monitor the gathering.
By noon about 300 pro pot citizens began gathering at the gallery, sitting on its steps exhaling plumes of marijuana smoke.
There were a number of signs being held that endorsed legalizing marijuana to curb gang violence.
Dave Douglas held a sign reading 'Tax Pot.'
"Why not make some money off it just like alcohol and tobacco. Funds can go to health care," Douglas said.
In support of marijuana were Green Party members handing out 'End Drug Prohibition' leaflets.
Quote:
Giving the rally some colour was 'Herb' a larger-than -life marijuana leaf mascot.

"I'm out of the closet," Herb said while blasting his lungs with a joint.
The march is part of a worldwide event dubbed The Global Marijuana March. In Toronto tens of thousands of people have participated in recent years.
While Mexico passed a law this week allowing Mexicans to be in possession of small amounts of the herb, in Canada it is still illegal to be in possession of any amount of reefer.
"It's amazing this law still exists," Hunter said.
Also, "we're asking the Liberals to not support Bill C-15," Hunter said.
Bill C-15 is a new set of proposed laws governing criminal activity drafted by Stephen Harper's Conservative government. It would give people minimum sentences for trafficking weed.
Hunter said it could mean anyone caught growing just one dope plant could go to jail for at least six months.
© Copyright (c) The Vancouver Sun
Topics: Articles | Comments Off
Comments are closed.