By admin | November 28, 2015
New Justice Minister asked to set up legal framework
Canadian Prime Minister Justin Trudeau has called on Canada's newly appointed Minister of Justice and Attorney-General Jody Wilson-Raybould to look into implementing marijuana legalization in the country.
In a mandate letter written to Wilson-Raybould, published on Friday, Trudeau asked her to collaborate with other ministers to "create a federal-provincial-territorial process that will lead to the legalization and regulation of marijuana."
But challenges involving the regulation of edible marijuana, and drug-impaired driving, could still hinder the legalization process, Lewis Koski, Colorado's director of the Marijuana Enforcement Division, told the CBC. Colorado is one of four U.S. states where recreational marijuana use has been legalized.
"It's going to be a lot harder to implement than you think. It's going to take a lot longer to do it. And it's going to cost more than you think," Koski said.
Read the full mandate letter here.
Topics: Articles | Comments Off
By admin | October 28, 2015
BY TED SMITHIN ACTIVISM · BLOG · CANADA · FULL · LEGAL — 28 OCT, 2015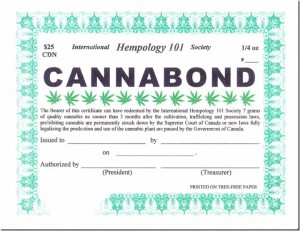 Ted Smith
Twelve years after releasing CANNABONDS, sales are officially ending today. Anyone wanting to get the promised quarter ounce of cannabis will have to wait until 3 months after the new laws legalizing cannabis are passed before they can cash it in. For now, the International Hempology 101 Society is very happy to announce the end of this campaign, which is over because the new federal Liberal government appears intent upon legalizing cannabis in the next few years.
Now the battles will be fought over who can be allowed to produce and distribute cannabis. Many fear the new laws will eliminate small business from entering the market, handing the industry over to the very big businesses that made the plant illegal in the first place. What form of legalization our government creates will determine how easily the existing black market moves into the new economy or whether overly restrictive regulations will favor large corporations. But that is another story.
Back in 2003 the money raised by selling CANNABONDS for $25 helped pay for several court cases I was fighting. Sales were close to 300, raising about $7,500 which was paid to lawyer Robert Moore-Stewart, now deceased. However, the society cannot lay claim to having thought of the idea in the first place, as selling futures in cannabis legalization was originally coined by legendary activist Chris Clay.
In the mid 1990s, Chris operated Hemp Nation in London, Ontario until he was run out of town by the police. He launched a constitutional challenge against the cannabis laws, the first of its kind with a long list of excellent expert witnesses to back him up. In a brilliant attempt to pay for this, Chris launched Victory Bonds, promising a quarter ounce of cannabis to everyone who paid the $25 price of the bond. It was very successful, bringing in around $25,000 for court costs.
A couple of years later I found myself and my employees getting arrested a lot and I needed to come up with a plan. In Nov 2000 I was arrested at the University of Victoria and charged with trafficking for passing out joints. One week later I was arrested downtown prepared to give out 420 pot cookies I had made for International Medical Marijuana Day, eventually being charged with trafficking THC for that. Police raids on the Victoria Cannabis Buyers Club in Jan, March and June 2002, and one final one in Feb 2003, had left me close to bankrupt.
The next challenge for Hempology 101 will be to find a way to get the almost 4 pounds of cannabis we will need to pay back the bond holders. When the CANNABONDS were issued we gave the society three months to start paying back those who wanted to cash the certificate in. In theory this gives the society just enough time to grow the herb itself. Certainly the group will proceed to set-up a nice size garden if the new laws permit but otherwise will have to find other means to follow through with its end of the deal. That is a problem we are happy to face.
The International Hempology 101 Society would like to thank everyone who bought a CANNABOND back when it was not certain at all that we would achieve our goal. It will be interesting to see exactly how many are eventually returned or whether people realize it is far more valuable as a relic of the days when cannabis was quite illegal. With legalization on the horizon, we are witnessing the end of a long war and the beginning of a new era in peace and prosperity.
Topics: Articles | Comments Off
By admin | October 9, 2015
Doctors say prescription pot rules too strict
By Gemma Karstens-Smith The Canadian Press
VANCOUVER – The Canadian Medical Association and the federal government apply a far more rigid standard to prescribing marijuana than other drugs, resulting in negative — or even deadly — consequences, say experts from the B.C. Centre for Excellent in HIV/AIDS.
Medical marijuana is held to a different standard than other prescription drugs despite research suggesting it has therapeutic benefits, say three experts from the centre in a commentary published Friday in the Journal of the Canadian Public Health Association.
"When it comes to prescription marijuana, patients' needs should be considered above political considerations," Dr. Julio Montaner, one of the authors, said in a news release. "There could be great harm in ignoring the medical uses of marijuana."
The government and the CMA are being overly cautious, co-author Dr. Thomas Kerr said in an interview.
"This is just not how we deliver medical care and why we're doing it in the case of cannabis is beyond me," he said.
Several recent studies have shown prescription cannabis can have therapeutic benefits, but the CMA and others have failed to acknowledge the research, resulting in a position that isn't based on evidence, Kerr's commentary said.
Other studies have shown prescribing cannabis may lead to a reduction in overdoses and deaths associated with prescription opioid.
"This can't be taken too lightly because Canada, like the U.S., is in the midst of an epidemic of prescription opioid abuse and related overdose deaths," Kerr said.
While marijuana is not associated with an elevated risk of mortality, prescription opioids contribute to nearly half of all overdose deaths — a leading cause of accident related mortality, the article points out.
Under Canada's current medical marijuana laws, patients must obtain prescription cannabis from federally licensed producers, generally through the mail. There are currently 26 licensed producers listed on Health Canada's website.
The idea of sending prescription drugs through the mail is odd, Kerr said.
"We would never do that in the case of treating someone with diabetes," he said. "Really, people should have access to experts who can counsel them on appropriate dosing, potential side effects and their management and who can also provide other options and clinical followup."
The caution towards cannabis comes because it is illegal and because the federal government "has been making up the science on the fly," Kerr said, pointing to the example of Stephen Harper saying that marijuana is "infinitely worse" than tobacco.
"It's unfortunate that the federal government has really failed to deliver an effective medical-cannabis program and it's unfortunate that they've also misrepresented the science in this area," he said.
Kerr said government and other interested agencies should consider implementing a system where cannabis is legalized, and both medical and recreational use are regulated using evidence-based discussions and approaches.
Kerr is co-director of the B.C. Centre for Excellence in HIV/AIDS's Urban Health Research Initiative. His co-authors are Montaner, director of the centre, and Stephanie Lake, a research assistant at the centre.
Topics: Articles | Comments Off
By admin | September 22, 2015
Medical Cannabis Advocacy Groups Call For Boycott Of Nevada State Athletic Commission Following Nick Diaz Ruling
Posted by: Pro MMA Now Staff on September 22, 2015
I am a former Canadian Boxing Champion, retired professional boxer and mixed martial artist, prescribed medical cannabis patient, and a health and wellness advisor at the Shadow Mountain Medicinal Society. I am a prescribed patient of medical marijuana because of injuries suffered in my profession. I was prescribed non-steroidal anti-inflammatory medication for years that hurt my stomach. I now use a topical cannabis cream that takes away the inflammation and pain.
I volunteer my mornings at the dispensary where our team provides patients access to medical cannabis. To become a prescribed patient for medical cannabis one must go through a screening process with a doctor and pharmacist. National Access Cannabis is there to help them navigate Canada's Cannabis Medical Access Program. If they qualify, they are prescribed medication, and can then come see us at our dispensaries. We provide clean, quality tested products, offer a supportive ear and help our clients with advice.
When Nick Diaz received a 5-year suspension and a $165,000 fine for testing positive for cannabis – as a prescribed patient – this was the tipping point for me. Another UFC fighter tested positive for cocaine, another tested positive for three different steroids; both of those athletes only received 1-year suspensions. These obvious discrepancies point to the fact that this is not about doling out appropriate punishments, or even the protection of fighters.
I reached out to Nick Diaz to let him know about the patients I see who are persecuted every day for choosing this medicine. I let him know how many other people out there are in his position and that he is an inspiration for us all. I also let him know we are going to support not only him but others that are being persecuted. Nick was thankful and replied, "I know I've been fighting for something for a long time, but I didn't realize this is what I'm fighting for until now. I'm happy to fight for other people in this position."
After speaking with Nick, I reached out to advocate Ted Smith who is responsible for the recently changed laws in Canada with his recent victory in the Supreme Court of Canada allowing the right to use products other than dried cannabis. Ted and Owen Smith were found not guilty after they were charged for baking edibles for cannabis patients. Ted said, "I will always be available to support cannabis patient."
I also reached out to Dieter McPherson of the Canadian Association of Medical Dispensaries who also offered his support. Dieter spoke about the studies of treatment of concussions and injuries with cannabis and was surprised of the ignorance of the fight commissions. Together we have come together in a unified voice to help stand up for people who continue to be persecuted for their choice of medicine.
No one deserves to be judged, persecuted, shamed or punished for wanting pain relief from a legal, safe medicine.
We are calling on all members of Shadow Mountain Medical Society, National Access Cannabis, Leafly, the Cannabis Buyers Club of Canada, CANLIO, Cannabis Digest, the Canadian Association of Medical Cannabis Dispensaries and anyone else who wants to end of persecution of Medical Cannabis prescribed patients. We have a unified group in boycotting all Nevada State Athletic events until they drop the punishment and fine, and allow an exemption for prescribed medical cannabis patients.
Shadow Mountain Medicinal Society is dedicated to the protection of medical cannabis patients. We support patients of our community who exercise their legal right to choose cannabis medicinally. Together, we stand for good solutions, good medicine and sound decisions. We will continue to stand until our right to choose this safe and effective medicine is both respected and protected.
Sign the petition at shadowmountaindispensary.com.
Sincerely, Jason Heit
Shadow Mountain Medicinal Society
Topics: Articles | Comments Off
By admin | September 10, 2015
Ottawa orders pot dispensaries to close, threatens to send in the Mounties
MIKE HAGER
VANCOUVER — The Globe and Mail
Published Thursday, Sep. 10, 2015
Health Canada has sent out cease-and-desist letters to at least a handful of illegal marijuana dispensaries and compassion clubs across the country, warning the RCMP could raid them if they don't shut down immediately.
The threat is the first indication the federal government is prepared to directly intervene to shut down Canada's storefront dispensaries, most of which operate in Vancouver and Victoria, where local governments have allowed them to proliferate and have either passed bylaws to regulate them or plan to. The letter also raises the possibility Ottawa could send the Mounties into those cities, where the local police forces have largely stood by while pot shops flourished.
Health Minister Rona Ambrose pledged at the beginning of August to create a task force to actively monitor and prevent such stores from selling or advertising pot.
A letter emailed Wednesday to Vancouver's B.C. Compassion Club Society, Canada's oldest medical pot dispensary, threatened that the RCMP would be called in "for enforcement action as they deem necessary" if the 18-year-old operation didn't stop immediately and submit a written statement confirming this action by Sept. 21.
"The sale and advertising of marijuana is illegal," the letter says. "You are encouraging Canadians to engage in conduct that could also expose them to criminal liability."
Jamie Shaw, spokeswoman for the compassion club and president of the Canadian Association of Medical Cannabis Dispensaries, said at least three other stores in B.C. and elsewhere have received the letter, which she called puzzling, because her non-profit has long sold marijuana to its members and has never advertised. Her group has asked the government for more clarity.
"If they think we're just going to close down in two weeks and cut off all our patients, they really don't understand where we're coming from," Ms. Shaw said. "We've always been willing to risk arrest."
These stores are illegal because they procure and sell their products outside the federal medical marijuana system, which was overhauled last year to allow industrial-scale production of pot products that are mailed directly to licensed patients.
After the city passed new regulations in June that will hand out business licences while imposing restrictions on dispensaries, Ms. Ambrose repeatedly asked Vancouver police to "enforce the law" and shut down the roughly 100 dispensaries operating within the city.
The letter suggests the federal government is working around these police forces by threatening to bring Mounties into these lenient jurisdictions, said Dieter McPherson, a Victoria-based cannabis advocate and adviser to the Canadian Association of Medical Cannabis Dispensaries.
"They have few avenues of recourse any more because people are on the side of dispensaries and the laxening of medical marijuana laws, in general," Mr. McPherson said.
The Health Canada letter also says operators that refuse to shut down their dispensaries could face fines of up to $5-million or two years in prison, or both, under Bill C-17, which passed into law last November.
The law introduced increased fines and penalties for regulatory offences under the Food and Drugs Act.
Topics: Articles | Comments Off
By admin | August 26, 2015
Vancouver Company Brings Together Dispensaries and Licensed Producers in Second Annual Canadian Cannabis Awards
VANCOUVER, BRITISH COLUMBIA — (Marketwired) — 08/26/15 — Lift Cannabis Co. (http://www.liftcannabis.ca) is pleased to announce that voting has officially opened for the second annual Canadian Cannabis Awards. The first of its kind in Canada, the awards provide an opportunity for patients from coast to coast to vote for their favourite medical marijuana strains, licensed producers, dispensaries, smoke shops, cannabis-focused medical clinics, and more. The Canadian Cannabis Awards are unique in that they're the first to combine voting on products grown by licensed producers from within Health Canada's federally regulated system, as well as those offered by dispensaries (which operate in a grey area outside of this system).
A special Cannabis Crusader award will also be handed out to an individual who has made significant contributions to the progression of cannabis knowledge, access, research, or acceptance. This year's nominees are Owen Smith, who recently won a Supreme Court of Canada decision that made medical cannabis legal in all forms; Mandy McKnight, the mother of a child suffering from Dravet Syndrome who has campaigned for greater access to cannabis oils and other derivatives for children suffering from seizures; Jamie Shaw, a longtime Vancouver-based activist who has worked relentlessly to support medical cannabis dispensaries and provide policy recommendations to the media, government officials, health practitioners, and educators; and Jonathan Zaid, the Waterloo, Ontario student and patient-rights advocate who successfully fought for and received insurance coverage for his medical marijuana.
The goal of the Canadian Cannabis Awards is to recognize and celebrate the leaders in Canada's rapidly growing medical marijuana industry. It also provides an opportunity to bring together an often disparate community of patients and stakeholders who exist and operate in different systems of access.
Tyler Sookochoff, founder of Lift, said of the awards, "We launched the first Canadian Cannabis Awards this time last year with the simple goal of providing patients from across Canada with a voice – but beyond that, we didn't quite know what to expect. The response we got was amazing and the awards received national attention. The awards are becoming a key component in furthering the industry in terms of recognizing the quality, credibility, professionalism and impact on patients that many Canadian cannabis businesses provide."
The public can vote by visiting www.canadiancannabisawards.com. Voting closes October 7 and the winners will be announced October 14.
About Lift:
Lift is a Vancouver-based patient services provider that makes exploring, purchasing, and consuming medical marijuana easier for Canadians. www.liftcannabis.ca.
Contacts:
Media contact:
David Brown
Director of Communications
1-800-681-1593
david@liftcannabis.ca
Source: Lift
Topics: Articles | Comments Off
By admin | August 19, 2015
by Travis Lupick – Georgia Straight
Canadians sitting in prison or stuck with a criminal record for crimes related to marijuana have a reason to vote Liberal in this October's federal election.
At an August 19 campaign stop in Vancouver, prime ministerial hopeful Justin Trudeau reiterated a campaign promise to legalize cannabis for recreational purposes. He then went one step further, adding that after a Liberal government is elected and has reversed laws that criminalize marijuana, it will begin discussing what should happen with people who have been charged for transgressions that the country no longer considers criminal.
"That's something that we'll be looking into as we move forward," he said, answering a question from the Georgia Straight. "There has been many situations over history when laws come in that overturn previous convictions and there will be a process for that that we will set up in a responsible way."
Trudeau initially took the question as an opportunity to criticize Prime Minister Stephen Harper and the Conservative government's tough-on-crime record on marijuana.
"One of the things that we've seen is that Mr. Harper's approach on drugs is actually financing gun runners and street crimes," he said. "Mr. Harper has failed in his drug policy. It is time that Canada regulated and controlled marijuana to protect our kids, to protect our communities, and to prevent the funds from flowing into the coffers of drug runners and street gangs. It is time that we did that. It is time that Canada adjusted to the reality that controlling and regulating marijuana is a way of both protecting our kids, protecting the public, and ensuring that we are not financing gangs to millions and millions of dollars. And that is what we are committed to and that's what we'll get cracking on when we form a government."
The federal NDP led by Thomas Mulcair has said it supports decriminalizing marijuana and, if elected, will consult with the provinces on the possibility of further reforms.
Topics: Articles | Comments Off
By admin | August 18, 2015
Const. David Bratzer says he was Muzzled for Drug Legalization Views
Katie DeRosa / Times Colonist
A B.C. Human Rights Tribunal hearing that started on Monday will decide whether a Victoria police officer was discriminated against by the department for his outspoken advocacy of drug legalization and regulation.
Const. David Bratzer said the department effectively muzzled him by limiting his right to speak publicly as a member of Law Enforcement Against Prohibition (LEAP) while off-duty.
Bratzer said the case is "about my employer's attempt to suppress a core component of my political beliefs. What is the point of allowing a political belief if you can't express it?"
The lawyer representing the Victoria Police Department said certain limits on its officers' off-duty conduct are reasonable, given that officers have a responsibility to be loyal to their employer.
Bratzer, representing himself, told tribunal member Walter Rilkoff that in 2008 he notified his superiors of his intention to join LEAP, an international organization of current and former law-enforcement officials pushing for full legalization and regulation of drugs.
He assured them that if he participated in any public work on behalf of the organization, he would make clear that the views were personal and not representative of the Victoria Police Department.
Bratzer said after former chief Jamie Graham was hired in 2009, the two talked about Bratzer's involvement, and Graham "made it clear this would not be good for my career."
Bratzer said in February 2010, Graham barred him from participating in a panel discussion on harm reduction at Victoria City Hall. He was also ordered not to comment publicly on Washington state's successful referendum on marijuana legalization and was sent several letters stating that Graham disapproved of his actions.
"[Graham] said to minimize anything publicly that has an impact on the department," Bratzer said, including avoiding talking to local media.
In 2011 and 2012, Graham sent two letters to Bratzer setting out restrictions on the constable's activities with LEAP, including that he must ask permission before speaking publicly about drug prohibition.
"This was a broad, global ban on my ability to share my political beliefs 24/7 for the remainder of my policing career," Bratzer said.
Bratzer argued he was being treated differently from other officers because of his pro-legalization and regulation stance.
Sean Hern, the lawyer representing Victoria police, said Bratzer was not discriminated against for his political views and was not treated differently from anyone else in the department.
Hern said Bratzer has made the restrictions on his activities with LEAP sound more onerous than they were in order to create "a straw man" for the tribunal.
Hern said all Victoria police officers have a duty of loyalty to their employer.
"A balance is required between an employee's right of free expression and the interests of the employer and its reputation in the community," Hern said. "The irony is not lost on the media that a law enforcement officer doesn't believe in the law he or she is enforcing."
Hern said problems could arise if police officers have "an unfettered freedom of expression when off-duty."
He pointed to examples of a traffic officer who says bike helmets are an affront to liberty or that seat belts should be a personal choice. He also used the more extreme examples of an officer who believes pedophilia is acceptable or that jihad is a justified response against capitalism.
Bratzer is asking Victoria police to pay him $100,000 to fund opportunities to speak publicly about LEAP and $65,000 in damages for emotional distress.
"These funds will provide a starting point to enable me to attempt to rebuild my international reputation as an advocate for drug-policy reform," Bratzer said.
Bratzer is asking that the restrictions on public speaking be lifted and any reference to his political beliefs be removed from his personnel file. He is also seeking a letter of apology from the department, and wants senior Victoria police officers to undergo sensitivity and human-rights training.
The tribunal is expected to last two weeks.
Topics: Articles | Comments Off
By admin | August 17, 2015
A Vancouver Island farmer is mounting a new effort to promote growing industrial hemp as demand for the products made from the crop increases.
Area farmers are expressing interest in growing hemp, said Blake Hunter of Good Seed Hemp Co. Inc., which sells hemp hearts, oils and protein powder.
"I am excited that this plant is being grown again here and believe that it can empower young and small-scale farmers," said Hunter. "There is so much room for growth as more people discover the amazing health benefits and multiples uses of hemp.
"Victoria and Vancouver Island are probably the most receptive places in the country for hemp [products]," Hunter added.
His crop in the Cobble Hill area follows efforts by farmers in 1998 to grow hemp on a combined 35.6 acres on the south and mid Island. But ongoing problems with thieves led at least one farmer, Vern Michell on the Saanich Peninsula, to plow under a million plants.
Industrial hemp is not the same as marijuana, which contains the drug that gets people high. But some people don't understand the difference. That's why Hunter keeps the specific location of his leased site secret.
Originally from Saskatchewan, Hunter is a fifth-generation farmer. Starting in 2005, he grew hemp on the family farm, using seeds for the company's products.
Good Seed Hemp products are sold at the Farmers' City Market in Fan Tan Alley and other retail outlets. About 35 per cent of sales are online, Hunter said, noting "almost all our customers are on the Island."
His only hemp crop this year allowed for planting on five of his 10 acres where he anticipates harvesting 3,000 pounds of seed. Plants grow up to 1.2 metres tall.
Seeds will be processed at a Salt Spring Island facility, he said.
Hunter said he is Metis and that hemp has been a traditional crop for indigenous nations in North America.
With harvest time approaching, Hunter has put out a call for 30 volunteers to cut and stook plants prior to threshing.
Hunter is hoping that interest in learning about hemp production will encourage people to turn out. Interested people can contact him at goodseedhemp.com
Hemp is grown on about 100,000 acres in Canada, mainly on larger tracts in Saskatchewan, Alberta and Manitoba, said Kim Shukla, executive director of the Canadian Hemp Trading Alliance. The number of acres growing hemp rises by about
30 per cent a year, she said.
"Hemp is like any other commercial crop," Shukla said. "It gets grown in areas where it makes economic sense to grow it."
One of the largest individual producers in Canada has about 8,000 acres in the crop, she said.
Shukla said high land prices in southern B.C. make hemp a less-viable crop. However, B.C.'s Peace River area is going through a resurgence of interest in hemp, she said, noting "that is exactly where hemp would make sense."
With production and processing growing, there is "huge room to expand … we haven't even touched the surface," Shukla said. The market has been largely developed for the food sector, meaning seeds, hemp hearts and health products.
In the past three years, B.C. has exported about $200,000 worth of hemp products per year, said a statement from B.C.'s Ministry of Agriculture. The U.S. is the largest export market.
Businessman Brian Johnson, a long-time Island advocate for the industrial hemp sector, is more optimistic about the viability of local production and the chances of seeing it grown more widely in 2016. A key barrier to farming hemp locally has been the lack of a processing plant, he said.
The likelihood of seeing such a plant on the Island is "very, very good," he said, adding that he is dealing with potential investors.
Johnson, of TransGlobal Hemp Products Corp., said plans to grow industrial hemp on 18 acres this year fell through after the death of his business partner. Other growers were deterred by the drought.
HEMP: IT'S NOT THE SAME AS MARIJUANA
• Industrial hemp belongs to the species Cannabis sativa L. Unlike marijuana, it only contains small quantities of the
psychoactive drug delta-9
tetrahydrocannabinol (THC).
• Hemp is grown for its seeds and fibre.
• About 85 per cent of hemp grown in Canada is for its seeds, used in food and health products.
• Hemp fibre has been used to make clothing, ropes and paper. The grain has been stewed, roasted and milled for food. It is used in hemp oil, protein powder, and sold as hemp hearts. Oil from the seeds has been used for cosmetics, lighting, paints, varnishes, and medicinal preparations, says Agriculture Canada.
• Hemp is a source of omega-3 and -6 fatty acids and contains amino acids.
• Growers must be licensed by the federal government. Rules require a hemp parcel to be a minimum of 10 acres.
• Hemp can be grown without fungicides, herbicides and pesticides.
• Hemp matures in three to four months.
Topics: Articles | Comments Off
By admin | August 13, 2015
By Joyanne Pursaga, Winnipeg Sun
Glenn Price's former dispensary now just a smoke-up spot for registered users
Winnipeg police say a business owner who invites medical marijuana smokers to light up inside his lounge isn't actually breaking the law.
Glenn Price, owner of Your Medical Cannabis Headquarters, re-opened his Main Street store on Tuesday as a lounge where users can medicate with marijuana. He was arrested for selling medical marijuana without Health Canada clearance on Aug. 4.
On Wednesday, Winnipeg police confirmed the new format, which no longer includes marijuana sales, is not illegal — as long as his users don't break the law either.
"Provided Mr. Price does not possess cannabis marijuana without a license or registration card, and does not dispense any cannabis marijuana to any citizen, he is not breaking the law. If Mr. Price is in the presence of cannabis marijuana from another unlicensed or unregistered marijuana user, police will investigate that complaint like any other," stated the Winnipeg Police Service in an e-mail.
To use the drug legally, a registered medical marijuana user must purchase it from a Health Canada-regulated dispensary by mail order only, which would ensure it isn't contaminated by mould, pesticides or insecticides.
A licence or registration card, which requires a doctor's prescription to get, must be carried by the user to legally possess the pot.
"Simply having a prescription for medical marijuana is not enough as the application process has not been completed and the individual is therefore in violation of the law," the e-mail noted.
Price also hopes to sell T-shirts and other non-drug-related items, while he gathers signatures on a petition to allow medical marijuana dispensaries in Winnipeg.
Price is currently charged with trafficking a scheduled substance, possession of a scheduled substance for the purpose of trafficking, possession of proceeds of property obtained by crime and possession of a scheduled substance. He was released on a recognizance.
Medical marijuana dispensaries do operate legally in Vancouver without Health Canada clearance.
Topics: Articles | Comments Off
« Previous Entries
Next Entries »