By admin | March 4, 2014
Featuring Dieter MacPherson
Topics: Articles | Comments Off
By admin | March 1, 2014
www.agardenofpeace.com
Topics: Articles | Comments Off
By admin | March 1, 2014
The International Hempology 101 Society and Hempology 101 UBC present their 4th Annual Cannabis Convention
Featuring Guest Speakers
Linda G. Balneaves – Health Effects of Medical Marijuana Project
Cheryl Rose – Hayleys Comet Research Foundation
Chris Bennett – Urban Shaman Ethnobotanicals
Jeremiah Vandermeer – Cannabis Culture
ADMISSION IS FREE OF CHARGE
From 1pm – 4pm
Sunday March 23rd 2014
in the Student Union Building, Room 207/209
At the University of British Columbia
Topics: Articles | Comments Off
By admin | February 27, 2014
with Ted Smith
Author of the Hempology 101 Textbook
Check out the Hempology 101 Textbook and buy it online at www.hempology101store.ca
Topics: Articles | Comments Off
By admin | February 27, 2014
The International Hempology 101 Society and Hempology 101 UVIC present their 15th Annual Cannabis Convention
Featuring Guest Speakers
Dr. David Hepburn
Dr. Neil McKinney
Cam Birge
Owen Smith
ADMISSION IS FREE OF CHARGE
From 1pm – 4pm
Sunday March 16th 2014
in the David Lam Auditorium, Maclaurin Building
At the University of Victoria
Topics: Articles | Comments Off
By admin | February 27, 2014

Read the full issue of the Cannabis Digest as it was meant to be seen.
Topics: Articles | Comments Off
By admin | December 21, 2013
Topics: Articles | Comments Off
By admin | December 14, 2013
Ian Mulgrew: Judges mull legality of hash brownies for medical users
Appeal: Ottawa wants the B.C. Appeal Court to overturn a lower-court ruling that allows such users to ingest their marijuana as they choose
BY IAN MULGREW, VANCOUVER SUN COLUMNIST DECEMBER 6, 2013
B.C.'s highest judges are mulling whether there's a constitutional right to tasty pot cookies and other marijuana products such as infused oils, balms and lotions.
But first the Court of Appeal panel must decide whether the head baker of a Victoria compassion club can claim that right since Owen Smith was not part of the medical marijuana program.
The three justices — Ed Chiasson, Risa Levine and Nicole Garson — grilled lawyers Friday about why Smith was allowed to raise such a challenge; wasn't he an ordinary drug trafficker? Read the rest of this entry »
Topics: Articles | Comments Off
By admin | December 14, 2013
Medical marijuana in tea or baking faces another B.C. court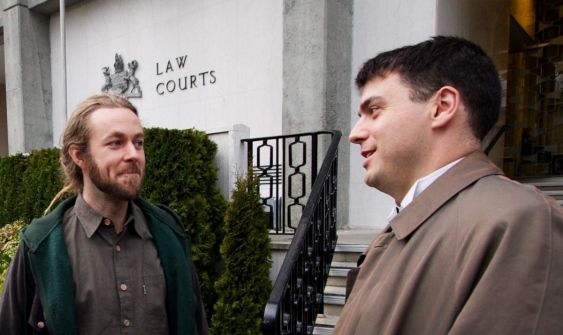 Owen Smith, left, with his lawyer Kirk Tousaw, outside Victoria Law Courts in
January 2012. Photograph by: DARREN STONE, Times Colonist
The Crown is appealing a B.C. Supreme Court decision that allows patients authorized to use medical marijuana to drink it in tea or bake it in their brownies and cookies.
On Friday, Owen Smith, the former head baker for the Cannabis Buyers Club of Canada, will be before the B.C. Court of Appeal in Vancouver, trying to preserve his April 2012 constitutional victory against Health Canada's medical marijuana access regulations.
At a press conference on Tuesday, Smith's lawyer, Kirk Tousaw, said he was excited to again demonstrate that the rights of medical marijuana patients to medicate themselves with cannabis and cannabis derivatives should be protected by the Charter of Rights and Freedoms.
"We're simply asking for the right to be able to ingest a safe and natural health product that's been used medicinally for thousands of years," Tousaw said. "I think there's a long history of protecting access to health care in this country, and I hope we continue to stand on that on Friday." Read the rest of this entry »
Topics: Articles | Comments Off
By admin | December 9, 2013
Topics: Articles | Comments Off
« Previous Entries
Next Entries »