« Where to pick up the Cannabis Digest | Main | Pot Gossip- Monday Magazine May 6-12, 2010 »
By admin | May 5, 2010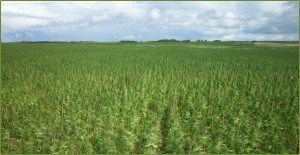 http://www.country-guide.ca/west/issues/ISArticle.asp?aid=1000366679&PC=FBC&issue=04072010
A northwestern Manitoba company's planned facility to process fibre from industrial hemp will get over $5.2 million in federal and provincial support.
Plains Industrial Hemp Processing's project will receive $3,375,000 through the federal Community Adjustment Fund, $1.4 million from the federal Agri-Opportunities program and $500,000 from the province's Rural Economic Development Initiative, the two levels of government announced Tuesday.
The facility, to be built at Gilbert Plains, Man., about 30 km west of Dauphin, is expected to process up to 18,000 tonnes of hemp per year.
Hemp processing in Canada generally focuses on its properties as an oilseed, leaving its long fibrous stalks as a byproduct.
Hemp grown for high-quality fibre uses, such as textiles, usually must be cut before seed sets. Stalks left over from hemp grown for seed generally yield lower-grade fibre for non-woven, industrial use.
According to provincial Agriculture Minister Stan Struthers, the Gilbert Plains plant is "a first of its kind in Canada."
The company currently makes hemp products such as hemp pellets, animal bedding and insulation.
Company president Robert Jin said in the federal press release that the funding "will enable my company to complete the purchase of equipment and construct the processing facility in Gilbert Plains."
The project, he said, will allow the company to "export Manitoba hemp fibre around the world."
The CAF is a two-year, $1 billion federal program supporting projects that create or maintain jobs in what are traditionally considered one-industry communities. Western Canada gets $306 million, delivered via Western Economic Diversification.
The CAF requires that approved projects be completed by March 31, 2011 "with no requirement for continued support."
Agri-Opportunities funding, meanwhile, is subject to the project "meeting all eligibility requirements and the signing of a contribution agreement."
Agri-Opportunities is a five-year, $134 million program that's also scheduled to wrap up in March 2011. The program provides up to $10 million per project, but aims for a funding target of 33 per cent of total project costs.
Topics: Articles | Comments Off
Comments are closed.